SSI – Scuba Diver
The SSI Scuba Diver program is perfect for those who don't have enough time to complete a full Open Water Diver program in one place and works out to roughly the same time as the first half of the Open Water Diver program.
The SSI Scuba Diver is counted towards the Open Water Diver course, so that you don't have to do parts of the course twice.
After a short repetition of the skills, you will be well on your way to becoming an Open Water Diver.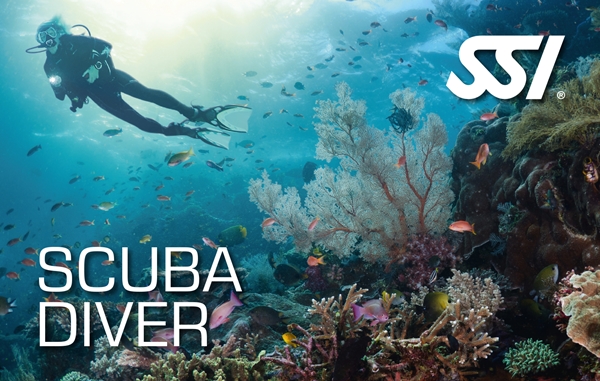 Certified SSI Scuba Divers may dive with a dive leader to a maximum depth of 12 meters. This enables you to take the first steps towards becoming an Open Water Diver, with a lot of fun in between. Following this program, you are entitled to participate in guided dives at all dive centres worldwide, accompanied by a dive professional.
If the goal is to go diving on your own at some point, you can advance to your SSI OPEN WATER DIVER qualification at any time with us or anywhere else in the world. Thanks to the convenient online training no bulky SSI Open Water Diving Manual is required.
In the end you will receive an SSI Scuba Diver certificate, which confirms your diving course participation at Octopus Garden.
The SSI Scuba Diver Course
duration 2 days
theory online training
dive equipment
shallow water exercises
2 open water dives
SSI digital certificate & logbook 
For boat dives we charge 10, – € per dive.