Diving safety, expertise and competence have been a top priority at Octopus Garden for over 30 years!
At Octopus Garden you can expect a qualified and professional team of diving instructors who will enable you to adapt your training and further your education individually.
Our diving courses from the SSI diving organization offer you a wide range of training programs from Open Water Diver to Advanced to Divemaster, as well as a large selection of specialised courses.
We tailor make your individual lessons so that you can start your diving adventure in a relaxed and personalised environment.
The theoretical training units are via online training and personally taught by our diving instructors in a comfortable and clear classroom setting.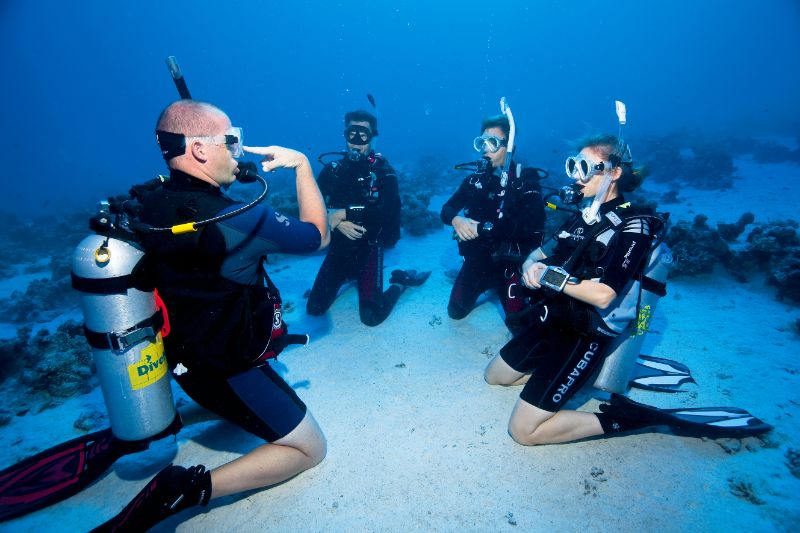 Your first practical exercises take place directly in front of the dive centre, because our reef offers ideal conditions with water depths of up to 10m.
On some dive courses you will of course take part in our regular diving trips so that you can also enjoy the pristine underwater world around Malta.
After successfully completing your course, you will receive your new diving certificate from Octopus Garden.
For more information, please visit the Academy section on our website.
Has diving fever caught you by now? Reward yourself at our dive shop, for example, with your own, newly acquired snorkel equipment!
Finally, for those interested in just giving diving a try, we offer a beginner's "try dive" in front of the Dive Centre to help spark your new passion for the underwater world.